Farewell Montreal (Hello London)
December 1, 2010
In exactly one month, I will be hopping on a plane to London (UK, not Ontario) to join a new job, a new city, a new life.
I can't quite reconcile my memories of several Quebec winters with the nagging impression that I landed in Canada as a "permanent resident" only a few months ago. All I can say for sure is that Montreal gave me a chance to be with the one I love, to work with wonderful people and learn a ton from them, make new friends, feed from the peculiar energy and multicultural creative tension of this place.
A friend once lamented that Montreal is a place of transit, where too many creative and intellectual minds come, rest, regroup, find new inspiration and leave. I never thought this might apply to me, too.
Now is time to go through the almost familiar dance of packing, paperwork, home-hunting and cash-gutting expenses. I can't say I love this part of the process, but given the stakes, I don't mind.
On the other side await (yes, amongst more bureaucratic anguish) a new period of discovery, new friends and a new, exciting job full of fantastic challenges.
So here's to one last month in Montreal amongst great friends and colleagues, and to what comes next.
Previous/Next
2010-10-31
How a blog post got me to talk with the Dalai Lama on the CBC. Sort of…
---
2011-01-08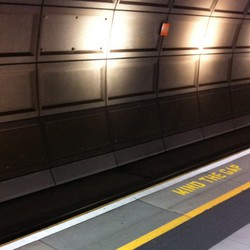 It's hard to fall in love when the heart's already taken. I was decided to give London a fair chance. Surely, the costly and exhausting move in the middle of winter, when my typical working day would hardly let me see the light of day and only let me see the new city through a veil of night and rain, surely all this would be handicap enough without me making it even harder.
---