Entries in City: Amsterdam
2012-11-08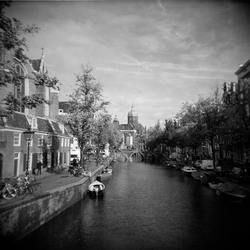 C'est une chanson de Brel, mais pas celle que l'on croyait. Bien sûr, ils boivent, boivent et reboivent, et pas seuls les marins. La nuit du samedi cent fois écourtée de rires et de cris ivres et enfumés. Mais sur les bords de l'Amstel, c'est sa maison que j'ai trouvée: des tas de fenêtres, et presque pas de murs.
---
Archives
Essays on the web and tech, rants about media and transportation, and raves about art and the city.
Photos et récits de voyage, poèmes à la ville et au monde, et autres mondanités.
---
📅
… or visit the full archive / explorer toute l'archive.
---
🌐
… or explore all locations / explorer tous les lieux visités.
---
📌