Entries in City: Bilbao
2012-02-12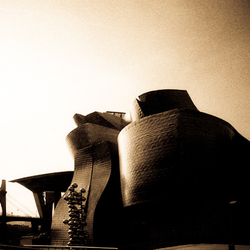 Une ville réellement magnifique, jouant sans honte des clichés; mélangeant le moderne (le Guggenheim de Gehry) et l'ancien (très 19ème siècle, aussi bien les bâtiments que le plan de la ville). Et peut-être le seul endroit en Espagne ou l'on peut avoir du mal à trouver un coin où manger un samedi soir à 21 heures.
---
Archives
Essays on the web and tech, rants about media and transportation, and raves about art and the city.
Photos et récits de voyage, poèmes à la ville et au monde, et autres mondanités.
---
📅
… or visit the full archive / explorer toute l'archive.
---
🌐
… or explore all locations / explorer tous les lieux visités.
---
📌