Entries in State: Northern Territory
2018-12-25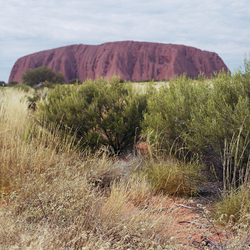 Avril 2018: Au petit matin nous marchons tout autour du plus gros caillou de la planète, buvant au goutte à goutte les histoires du Tjukurpa: mythes, lois, traditions, cours de géographie tout à la fois, inextricables, enrobés dans des histoires de divinités vengeresses et d'animaux géants farceurs, seule explication plausible à l'incroyable topographie du lieu.
---
Archives
Essays on the web and tech, rants about media and transportation, and raves about art and the city.
Photos et récits de voyage, poèmes à la ville et au monde, et autres mondanités.
---
📅
… or visit the full archive / explorer toute l'archive.
---
🌐
… or explore all locations / explorer tous les lieux visités.
---
📌